If you're a beginner chess player looking to improve your skills invest some time solving chess puzzles.
Chess puzzles, believed to have been used since the Middle Ages, are designed to help you develop your pattern-recognition skills and ability to make the best move for certain situations. They often use real scenarios that have been solved or attempted before.
You can find them free and plenty online if you know where to look. To point you in the right direction, we've compiled some of the best sites where you can find chess puzzles.
---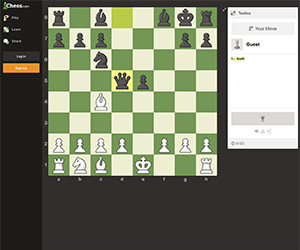 Chess.com is one of the most popular websites for chess enthusiasts. They offer more than just chess puzzles being an 'all-in-one stop' for people who are looking to improve their chess playing. Proof of this is that the site hosts about more than a million games in a day.
When it comes to chess puzzles, free members are allowed up to five free puzzles a day which are given depending to your skill level. Not bad for casual players, eh? But if you're looking to train for competitions, we recommend that you avail of their premium membership perks to have access to more puzzles.
Another great thing about Chess.com is that it has a very active forum where you can discuss anything chess-related with fellow enthusiasts and even professional players. Confused about how to solve a chess puzzle? Just drop by the forums and see what other people think.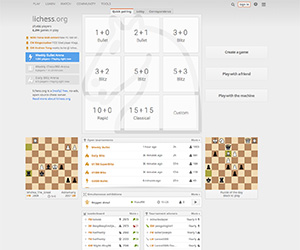 If you're after unlimited and free chess puzzles, drop by the Lichess.org site. They're known for being a popular but completely free chess website. This means that all services they offer are free and won't require a paid premium membership like other sites do.
They offer an analysis feature which lets player review every move you made on the games you've played and an insights feature which compiles information on every game you've ever played on their site, so you can analyze them.
When it comes to chess puzzles, Lichess.org has a tactics trainer which guides you through an unlimited number of positional puzzles to help you take your tactical skills. The site also let's you set the difficulty of the chess puzzles given to you and more importantly track your progress using puzzle rating. What more, you are given the option to review any puzzle you've done when you need to.
However, one downside is that Lichess.org's puzzles are deemed to be less sophisticated by some players who've used the site as they notice that best moves aren't played by the opponent in puzzles.
Nonetheless, we still highly recommend the site for beginner chess players.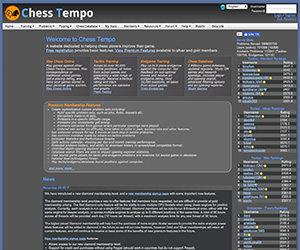 Chess Tempo is another great free website where you can find numerous chess puzzles to help in your training.
A free account on the site will get you unlimited tactical problems and puzzles and two endgame puzzles a day. Not bad, huh? And if endgame training is important to you, you can avail of their paid membership (which is pretty cheap at $4 per month) to get access to more endgame puzzles.
What's great about Chess Tempo is that they allow you to choose what kind of puzzles to give you depending on the chess tactic you want to train in. The site also ensures that only the best moves are played against you I stead of what may seem 'natural'.
Another useful feature the site offers is that it compiles statistics on every game and puzzle you play and generate helpful charts to show you how you're progressing.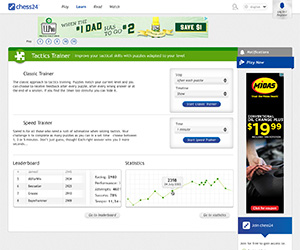 If you're a beginner chess player looking to fast track your progress, check out Chess24's Chess Tactics Trainer. There you'll find a database of tactics problems and puzzles suitable for all levels of players.
Chess24 helps its players by matching them with puzzles that suit their current skill level and by giving them feedback after every puzzle. Solving puzzles are also made easier for beginners with the 'hint' feature which shows players which piece to move but not disclosing the entire correct move itself.
The site also offers speed training by allowing players to choose between two play modes: classical or speed. In the latter mode, a timer is set (usually either three or five minutes) to challenge players to solve puzzles under the pressure of limited time.
One last great thing about Chess24 is that it has a mobile app version, so you can train anytime, anywhere.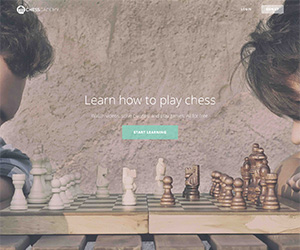 Chesscademy offers concept-focused chess puzzles which are intended to familiarize you with chess concepts while developing your tactics skills. Each puzzle is tagged with a concept and solving each would increase your rating which will give you access to more difficult ones. This concept-focused training would help you understand what you're exactly struggling with.
The site also believes in learning by doing when it comes to chess training, so puzzles are made to be highly interactive.
Ideachess. has over 70,000 chess puzzles available for players of all levels. It's also a great site for younger people who are looking to progress their chess playing skills.
The site has a dedicated section for checkmate puzzles and a rating system to help players evaluate the improvement in their solving abilities.
It also allows its users to export and download chess puzzles, so they can review them or share them with friends and other players offline. This is a particularly great feature since the site's forums doesn't seem to be very active unlike other popular chess sites.
WTHarvey.com is a hidden gem among chess players. Not surprising since the site's name doesn't outwardly advertise the goodies that it has.
When first visiting the WTHarvey site, you might be turned off by the seemingly simple and outdated site design. The front page itself has been described as an eye sore by its loyal visitors. But don't let appearances fool you as this site is a great resource for chess puzzles.
The site primarily hosts puzzles that have occurred in real life in famous grandmaster matches, so it's a great fit for serious chess players who are training for competition.
However, one downside is that the site only hosts puzzles and doesn't offer any other assistance to layers in the form of a forum or a database.
Chess Tactics Server is a site that has over 23,800 free tactical chess puzzles that players of various skill levels will find useful. The site is also completely free but we recommend you to make a user account to monitor you progress over time. Trust us, you'd want to make an account on this site as they provide an accurate gauge of your tactical skills.
A warning though: the site focusses on speed and the puzzles on it are meant to be solved under time pressure.
Another thing you should know is that the site has a rather graphical interface. But on the flipside, its minimal site design allows it to be fast and accessible. You'd also be pleased to know that they offer support service via email.
---
Chess puzzles are a great training tool for advancing your chess playing skills whether you're a beginner or a veteran player.
So, what are you waiting for? Follow the links to these sites and see which one's chess puzzle selection will work well for your needs.