There are plenty of places online you can go to play a game of chess against a computer-controlled opponent. We've taken the time to find the seven best websites that you can visit to get in a game against an AI player.
The sites detailed here all have some features in common with each other but at the same time offer something different and unique that helps set them apart from the rest. Hopefully, amongst this list of online chess games, you can find the right website for you that matches your skill level and needs.
---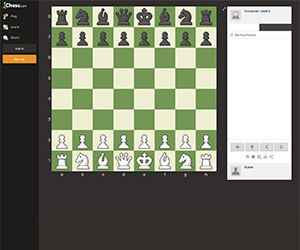 Chess.com's browser based chess game is probably the most popular option on this list. They give you the option to set the difficulty level (from 1 for beginner to 10 for grandmaster).
One of the best features at Chess.com is the ability to ask for a hint when you get stuck making your next move. Of course, this being Chess Suggest, you can use our own chess helper to get the same kind of assistance as well.
If you get tired of playing against a computer you can eventually step up, create an account at Chess.com and start playing against other chess enthusiasts just like yourself. You can play right inside of your browser, at any time of the day, with just a few clicks.
The computer chess game at ChessKid might be a little too cartoony for more mature players but this is a great way to get your kids interested in chess.
As a part of Chess.com, this site offers the same features of the Chess.com computer-controlled environment described above. So the young player in your life will get ten levels of difficulty and a "Coach Mode" to help them learn the ins and outs of the game.
The game's fun kid-friendly mascot helps give the player feedback on the quality of their moves and keeps the simple, but complicated at times, game understandable for players of a variety of ages.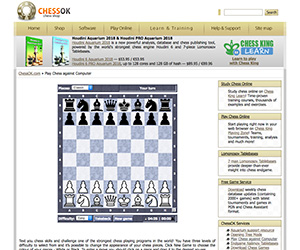 The chess game provided by ChessOK is much simpler in its presentation than Chess.com or ChessKid but that doesn't mean it is without it's charm.
ChessOK's online chess game comes with three levels of difficulty (easy, medium and hard), which is fewer than its competitors, but there are still enough options available to properly test your skills. And if you make a mistake there is a "Takeback" button to do your last move over.
The unique feature here is the ability to choose from six different styles of chess piece. Each set of pieces is different from the others but still easily discernible when playing.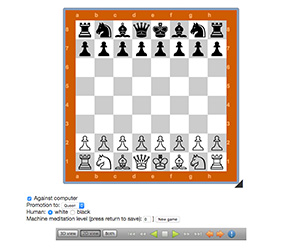 The chess game at BrainDen's website is simple in initial appearance but very intricate when you begin to look at all of the options available to you.
BrainDen's computer chess game lets you choose what color you control and the difficult level of the computer opponent.
The standout feature here is the ability to take the current board and save it as a PGN (portable game notation) file. You can then upload that file to the site to resume your game at a later date or to try a different strategy to see if you can chance the outcome of the game.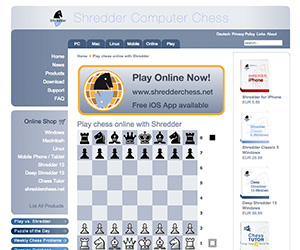 The popular chess software, Shredder, offers an online version of their engine for players to try for free.
While the online version of Shredder only comes with three difficulty levels, to try and keep things fair for human players, it's a good way to get a feel for the full capabilities of their other products.
Shredder's game is simple in appearance and features but will serve as a good solution for an online chess game in a pinch. And, again, it's really meant as a demo for their other products which you might find useful.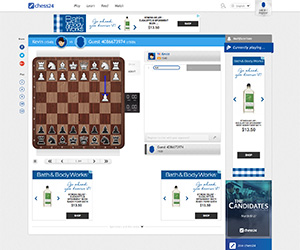 The online chess game at chess24 is definitely the best looking on this list. The interface is very slick and the pieces and board are very attractive compared to other online chess games out there.
The chess24 board comes with timers so you can play a game that is 1, 3, 5, 10 or 15 minutes long. Or you can just play at your own leisure.
This game also offers a move-by-move replay system and offers a selection of AI players to choose from so you can set the exact difficulty level you want.
The combination of the timer system and the AI "personalities" on offer make the chess24 online chess game ideal for all players.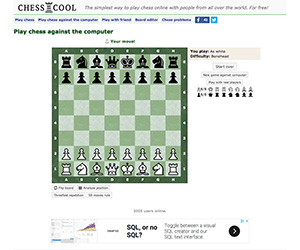 The Chess.Cool online chess board is extremely flexible in its options when compared to the others on this list. It offers a simple visual style but comes with the ability to choose from six different difficulty levels, two game types (classic or Fischer), starting a game with custom or random openings and timer controls.
On top of all of that, Chess.Cool lets you analyze your board at the click of a button so you can get the FEN string needed to replicate your board anywhere FEN is supported.
For example, here at Chess Suggest where you can import FEN strings right into our chess move calculator to get your next move suggestion.
---
So there you have it: seven our of favorite websites to visit where you can play chess online against computer controlled opponents. With these sites there is absolutely no excuse for you to be left wanting for a game to either pass the time or to help improve your chess abilities without the pressure or time spent trying to find another person to play with.
There are a lot more options out there than just these, of course, and new chess games are popping up every day but these sites are a great way to start no matter what your skill level might be.
If you found this article interesting please stop back again for other chess resources as we continue to expand and grow the content here at Chess Suggest. Or, if you need help in your current game, use your next chess move calculator to give yourself a slight edge over your opponent.